Not one hint of remorse:
Harman and Dromey's statements,
and the Daily Mail's replies
By Harriet Harman
24 February 2014
In recent days I have been the subject of a politically motivated smear campaign by the Daily Mail.
They have accused me of being an apologist for child sex abuse, of supporting a vile paedophile organisation, of having a relaxed attitude to paedophilia and of watering down child pornography laws.
These are horrific allegations and I strongly deny them, all of them.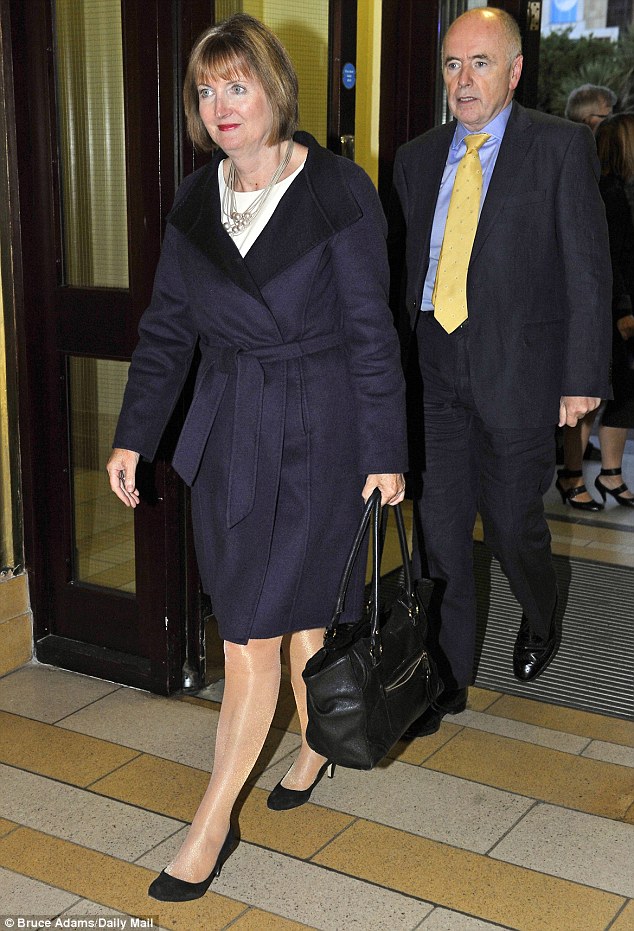 Labour's deputy leader Harriet Harman, 63, and her 65-year-old husband Jack Dromey
This is not the first time the Daily Mail has made this horrible and untrue allegation.
And this is not the first time the Daily Mail has attacked me.
AGE OF CONSENT: MAIL'S REPLY
The Mail has never alleged that you personally supported lowering the age of consent to ten.
However, in a 1976 submission to Parliament's Criminal Law Commission — dubbed a 'Lolita's charter' by one MP — the NCCL claimed: 'Childhood sexual experiences, willingly engaged in, with an adult result in no identifiable damage.'
The document argued that it was 'logical' but 'not politically possible' that the age of consent be abolished altogether, and said therefore that the age of consent should be lowered to 14 — or ten 'provided it is demonstrated that consent was clearly given by the child'.
When you joined the NCCL as its legal officer two years later, you must have been fully aware that this remained the organisation's position. Why, then, did you join a campaign group that supported such a policy?
The editor and proprietor of the Daily Mail are entitled to their political views and they are of course entitled to oppose what I stand for, but they are not entitled to use their newspaper to smear me with innuendo because they disagree with me politically and hate my values.
I sincerely hope people won't believe these smears — I suspect even the Daily Mail doesn't believe them to be true.
But given the seriousness and the aggression with which the Daily Mail is pursuing me, I feel that I need to put the facts in the public domain.
1. Allegation that I supported the lowering of the age of consent to ten.
This is not true. I supported the equalisation of the age of consent (as set out in the National Council for Civil Liberties document 'priorities and strategy for the executive committee June 1981') by making the age of consent the same for homosexual as well as for heterosexual sex.
2. Allegation that I opposed the law on incest.
This is not true. The document they refer to was written by NCCL in 1976 before I started to work there.
LAW ON INCEST: MAIL'S REPLY
Again, the Mail has never alleged you personally opposed the law on incest.
But the NCCL's highly controversial affiliation with PIE, its support for lowering (or even abolishing) the age of consent and its demand for the legalisation of incest was widely reported throughout the Seventies.
Yet despite these morally offensive views, and despite the fact the NCCL remained opposed to the law on incest when you joined, you agreed to take a job there in 1978.
Again, why did you work for an organisation that supported such an abhorrent stance?
3. Allegation that I was seeking to water down a proposed ban on child pornography.
This is not true.
I supported the Protection of Children Bill 1978. At the start of the document it makes clear that: 'The NCCL deplores the exploitation of children whether in the form of use in commercial pornography or as victims of sexual assaults.'
The submission argued for some amendments to guard against unintended consequences, including:
Parents being criminalised for taking pictures of their children on the beach or in the bath.
The use of pictures in sex education being criminalised.
We also proposed that the definition of indecent was too wide and instead proposed 'obscene' as indecent was very broadly defined and could include Page 3 of The Sun.
CHILD PORNOGRAPHY: MAIL'S REPLY
Your name is on the NCCL's four-page submission to MPs (dated April 28, 1978) considering the 1978 Protection of Children Bill — legislation designed to ban indecent images of under-16s. The document is printed in its entirety on our internet site.
You are correct to say it begins by stating the NCCL 'deplores the exploitation of children.' But the document then goes on to urge MPs that 'images of naked children should only be considered pornographic if it could be proven that the subject had suffered'.
Thus, it remains the case you were seeking to water down a proposed ban. Had your recommendation for a change to the Bill become law, it would have effectively rendered all child pornography legal, with the exception of images of child abuse or rape.
The Mail has tried to make me guilty by way of guilt by association.
NCCL was an organisation which anyone could apply to join and indeed any organisation could apply to be 'an affiliate' on payment of a fee.
When I was at NCCL, there were around 6,000 members and nearly 1,000 affiliated organisations, of which PIE (Paedophile Information Exchange) was one.
Members and affiliates decided the organisation's policy at the AGM from year to year.
I was aware that because NCCL opposed censorship and supported gay rights, paedophiles had sought to exploit that and use NCCL as a vehicle to make their arguments.
But by the time I came to work for NCCL this vile organisation had already been vigorously challenged within the organisation.
Jack Dromey was instrumental in that challenge when he took over the chair of NCCL in 1976.
LINKS TO PIE: MAIL'S REPLY
Since affiliate organisations such as the one campaigning for the legalisation of sex with children helped decide NCCL policy, why did you choose to take a senior job with the NCCL?
Why was an organisation with a name as clearly repugnant as the Paedophile Information Exchange allowed to remain affiliated to the NCCL throughout your four years there? And why, if you so opposed the affiliation, did you not resign or call for the affiliation to be severed (which did not happen until 1983, after you had left)?
The reason I decided to go to work for NCCL was because I actively supported the work they had done and, in particular, the work of their women's rights committee on the Equal Pay Act, on the introduction of the Sex Discrimination Act and for greater protection of victims of domestic violence and against race discrimination.
Since being elected to the House of Commons in 1982 and during my times in ministerial office, I have always championed the rights of those subjected to sexual abuse — especially women and children.
I hope the Daily Mail will stop this campaign of smear and innuendo against me.
I have done nothing wrong and am guilty of none of its grotesque allegations.
SUPPORT FOR PIE: MAIL'S REPLY
PIE still boasted significant support in the NCCL when you joined the council in 1978, and retained such backing at the time you left in 1982.
Indeed, in that year, Rights, the NCCL's in-house magazine, published a letter from a self-confessed paedophile and NCCL member who argued: 'Consensual sex between adults and children is simply people of different age groups being nice to each other.'
The letter also claimed that 'child molesters' was 'a loaded and pejorative term. A totally inaccurate description of us and a put-down in much the same way that "pansy" is a put-down of gays and "n*****" a put-down of blacks'.
With such repellent views being given a platform by the NCCL, why did you not demand that it ended its affiliation with PIE?
Dromey's statement and the Mail's reply

Days gone by: Miss Harman and Mr Dromey
stand in London's Parliament Square in November 1982
BY JACK DROMEY
Sexual abuse of children is evil and I have always viewed paedophiles and any group associated with them as evil.
THE MAIL'S RESPONSE: And yet you allowed the NCCL, an organisation on whose executive you served, to lobby Parliament in 1976 for the legalisation of incest and the reduction of the age of consent to ten 'provided it is demonstrated that consent was clearly given by the child'.
During my time on the NCCL executive, I was at the forefront of repeated public condemnations of PIE and their despicable views.
THE MAIL'S RESPONSE: This may be the case, but what were these 'public condemnations' and where were they reported?
The Mail has been unable to find any record in either contemporary newspaper documents, or in internal NCCL documents held in its archives at the LSE and the University of Hull.
Then, when I was elected chairman, I took them on.
THE MAIL'S RESPONSE: By then it was too late: the NCCL had already lobbied Parliament about lowering the age of consent to ten.
You sat on the NCCL's ruling executive from 1970 to 1979. PIE paid to join as an affiliate in 1974, under your watch.
In 1975, NCCL lawyers worked with PIE in an effort to gag the Press by helping the group complain to the newspaper watchdog, the Press Council, about a Sunday newspaper article headlined 'The vilest men in Britain'.
This occurred while you were on the NCCL's executive.
The NCCL's annual report for the same year declared that NCCL lawyers had 'acted for some of the men when there were police inquiries as a result of the article'.
Again, this support for self-confessed paedophiles occurred under your watch.
Finally, in the NCCL's 1975 Annual Report, published when you were on the executive, PIE was described as 'a campaigning/counselling group for adults sexually attracted to children', without a hint of condemnation.
I personally chaired the NCCL conference that, on my recommendation, refused to back by a massive majority a loathsome motion from a leading light in PIE calling on NCCL to support the so-called 'rights' of paedophiles. Indeed, my stand was denounced in a leaflet distributed by PIE to the delegates to the conference.
THE MAIL'S RESPONSE: If you are referring to the 1976 NCCL conference, as Harriet Harman's statement suggests, that was also addressed by Tom O'Carroll, a notorious paedophile and founder of PIE who was later convicted for child sex crimes.
Why was this man ever allowed to address the conference? According to contemporary reports, the conference promptly voted to 'deplore' the use of chemical castration on such criminals as paedophiles.
Like many organisations in the 1970s, NCCL had been infiltrated but that was the moment the tide was turned.
THE MAIL'S RESPONSE: No, it wasn't: PIE was allowed to remain affiliated to the NCCL until 1983 — even after several of its leading members had been convicted of appalling sex crimes.
I closed the conference saying that we had to stand up for the rights of children not to be sexually abused and that adults guilty of abuse were the lowest of the low. I was then the first to argue that paedophiles could have no place in NCCL.
THE MAIL'S RESPONSE: At the time of the 1976 NCCL conference — when it allowed PIE members a platform to speak publicly and still allowed PIE to continue its affiliation — the paedophile organisation was circulating a leaflet to MPs titled 'Paedophilia, some questions and answers'.
This claimed that 'girls as young as four months can achieve orgasm', and that four-year-old children can 'communicate verbally their consent to sex'.
It's all very well saying that you simply 'argued' about whether the Paedophile Information Exchange could 'have a place' in the NCCL.
But politicians should be judged by their actions. You did not see fit to resign from the NCCL, and PIE remained affiliated until after you left the executive.
As a lifelong opponent of evil men who abuse children, the accusations of the Daily Mail are untrue and beneath contempt.
THE QUESTIONS THEY STILL MUST ANSWER
Why did you take senior roles with an organisation that was affiliated to the Paedophile Information Exchange, a vile organisation openly campaigning to legalise child sex?
Do you have any guilt over the many child victims who suffered appalling abuse at the hands of PIE members whom the NCCL helped legitimise?
Did you ever recommend that the affiliate links between PIE and your civil rights organisation should be severed?
Do you have any regret that you worked for a pressure group that was associated with a grotesque outfit that advocated the legalisation of paedophilia?
Having worked for several years for an organisation that gave significant support to PIE, do you feel you can be taken seriously when discussing policies relating to children?
Source : 'Daily Mail'